Automate

and

Standardize


Account Reconciliations
with Flowis
Discover how Flowis changes account reconciliations by making them easier and more efficient with automation and standardization. Say farewell to manual reconciliation challenges and enjoy better efficiency.
Why Flowis is Your Best Bet for Automated Reconciliations
Automated Balance Uploads
Quickly bring in your financial data from your different accounting and consolidation systems. Don't spend extra time manually inputting numbers. It's like uploading a photo to your computer.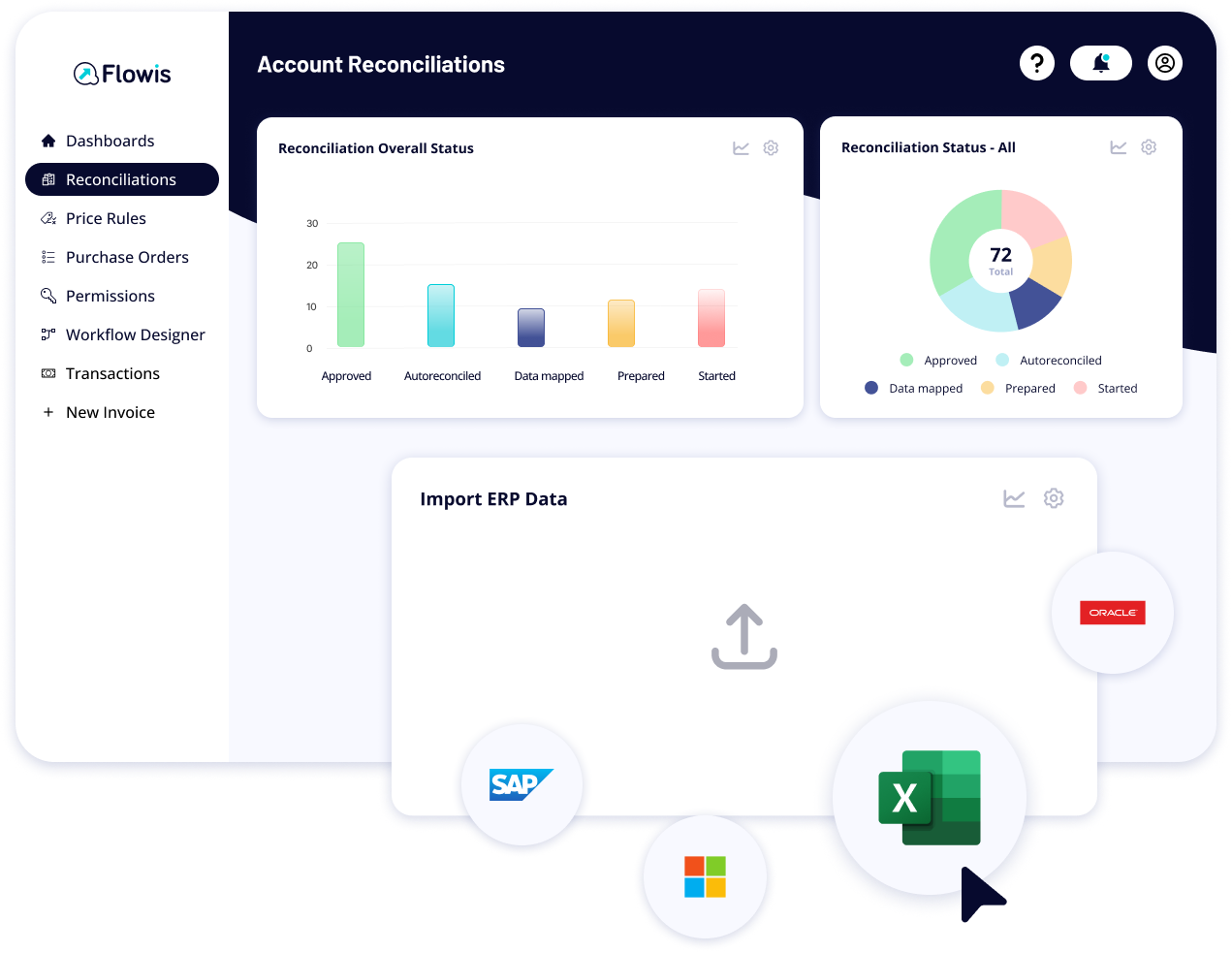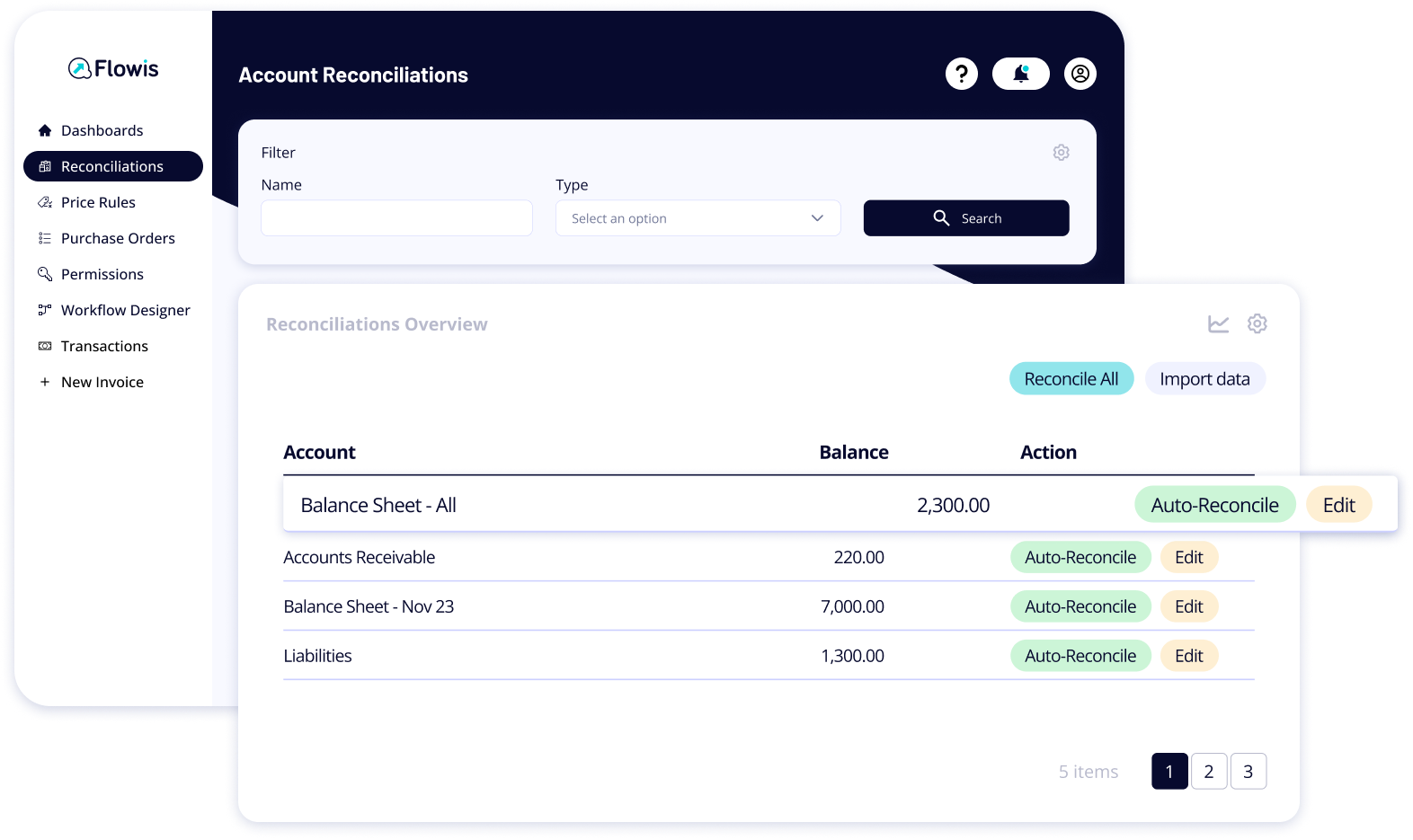 The Flowis system helps match up numbers automatically, so you don't have to do it manually. Say goodbye to time-consuming manual account reconciliation tasks.
Flowis provides a suite of powerful tools tailored for report generation. Create charts and graphs, enhancing your financial insights. A visual compass guiding you through your financial data."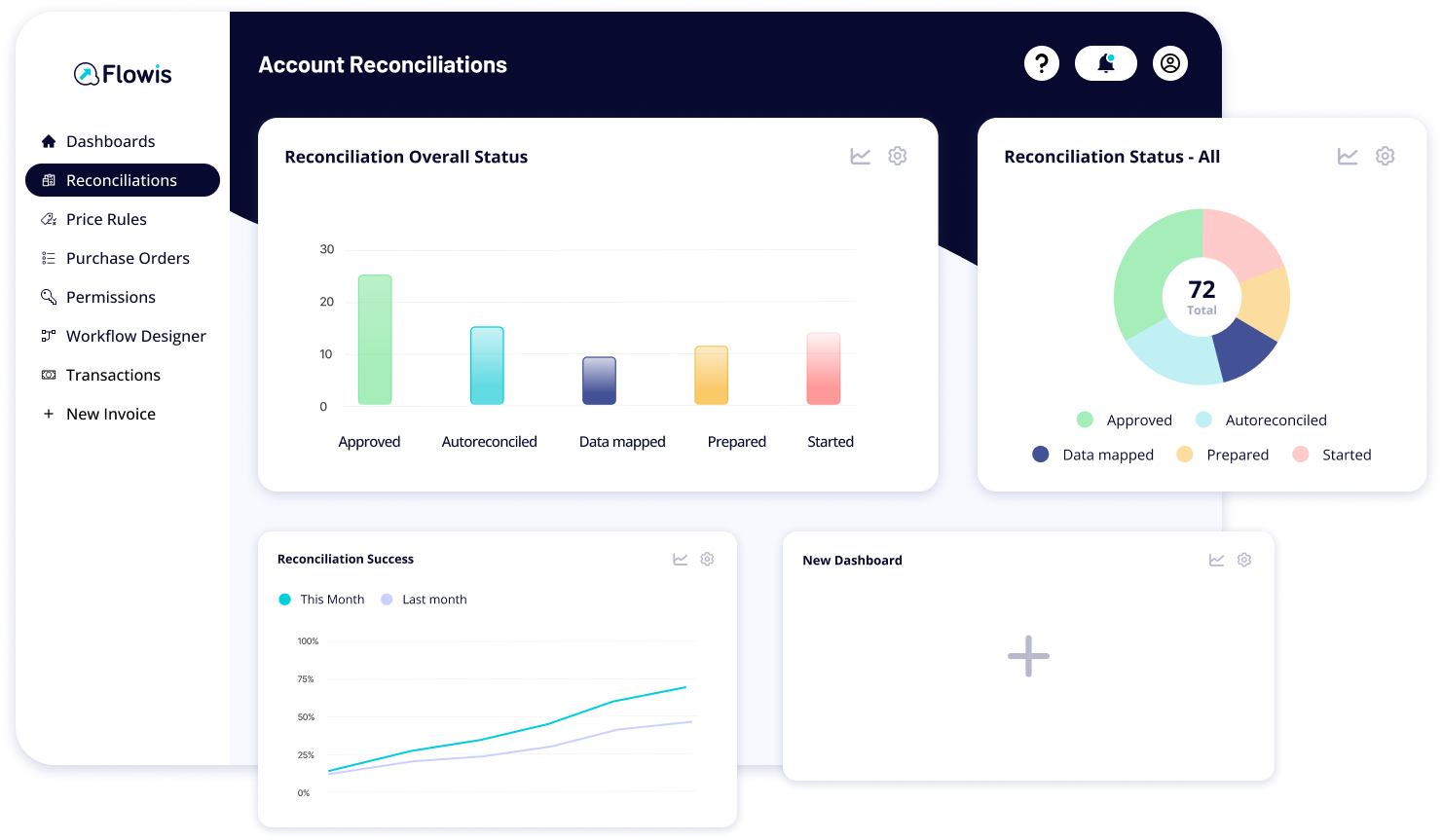 Secure archives of your financial records in a digital format, ensuring easy retrieval when needed. Flowis organizes digital files, simplifying access to essential documents.
Intelligent Notification System
A comprehensive notification system that keeps you informed about matters that require your attention. Flowis is your virtual assistant sending timely reminders, ensuring you never miss essential tasks or updates in your business operations.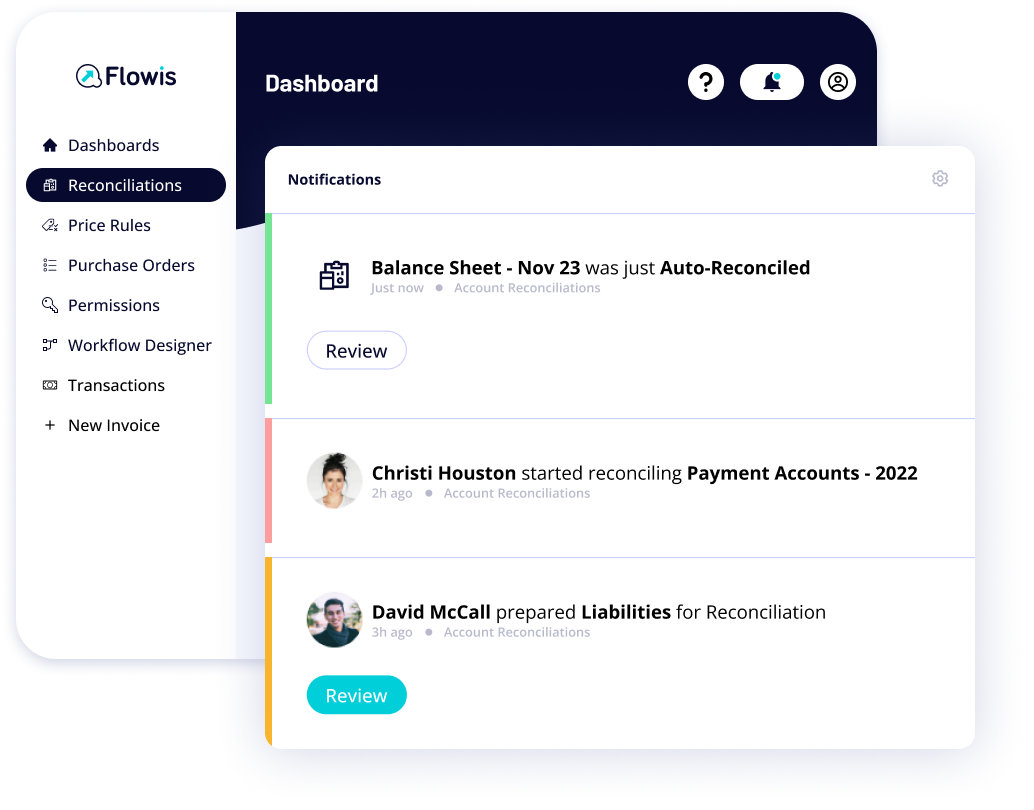 Tailor-Made Workflows
and Comprehensive Audit Trails
Customized workflows give you the power to set up things in a way that suits your company.
Comprehensive Audit Trails
With our audit trail feature, transparency and accountability are at the core of Flowis, which maintains a detailed record of all the financial actions taken.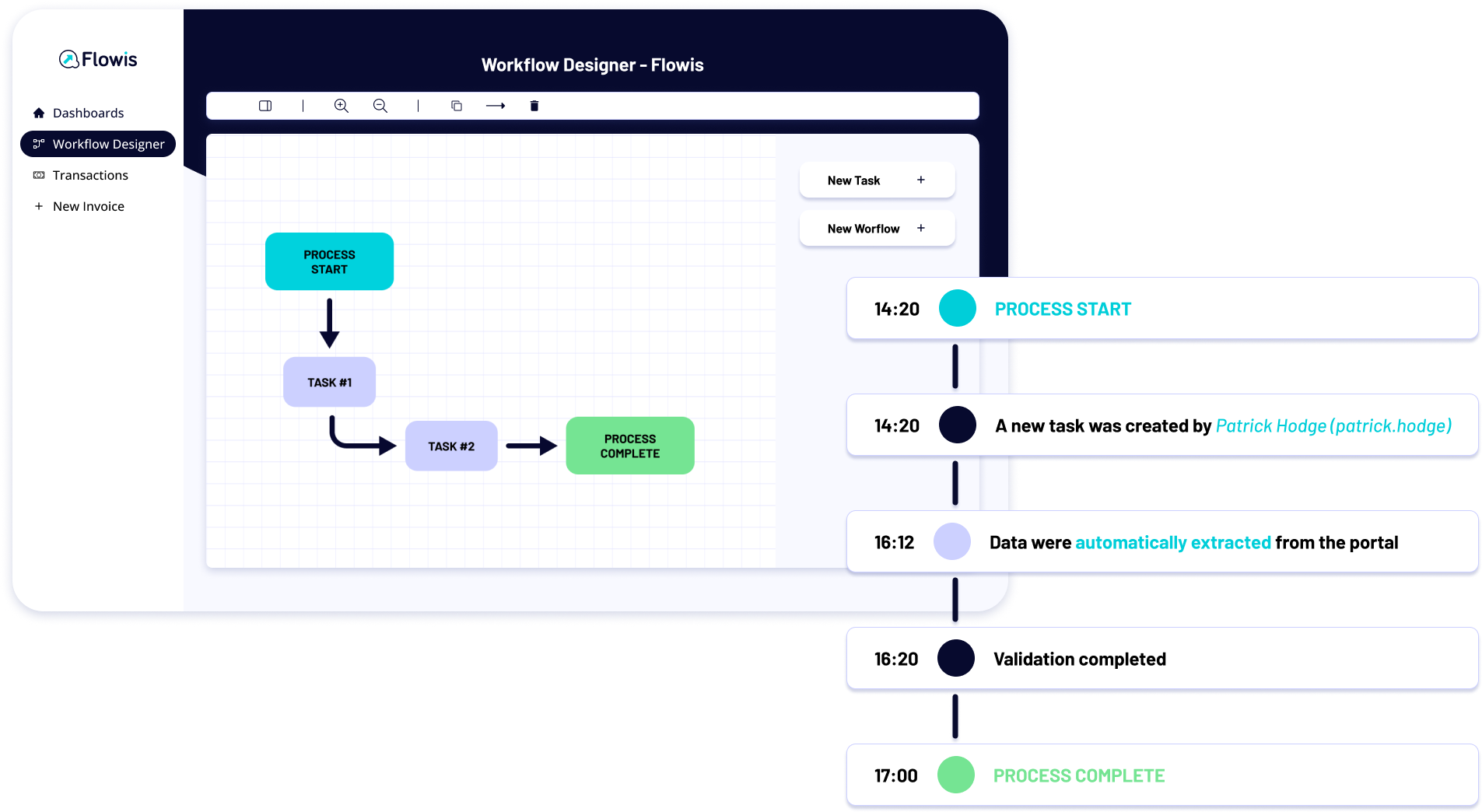 Number of companies trust Flowis for Accounts Reconciliations How Flowis
Automates

the
Account Reconciliation
process
Account balances are seamlessly imported from your accounting and consolidation systems into Flowis. Using your company's reconciliation matrix, accounts are routed for preparation and approval. Auto-reconciliation handles accounts with no discrepancies, reducing manual workload.
Reconciliation Preparators
Accountants, assigned by their responsibility, prepare cover sheets, supporting documentation, and underlying data to support account balances in Flowis.
Approvers review all documentation and can approve or send accounts back to preparators for adjustments. Configure exceptions based on value, region, or sensitivity in Flowis.
Internal / External Audit
Audit teams with access to Flowis can perform reviews without the need for print-outs or copies of reconciliations. Auto-reconciled items skip the audit, saving time and fees.
Flowis offers powerful reporting and automated reminders and escalations to ensure timely reconciliation preparation. Internal ad-hoc reviews can be conducted as needed, enhancing the quality of reconciliations.
All reconciliation transactions are stored in a single repository, ensuring data preservation, even when plants are decommissioned or personnel change roles.
See how we've Implemented Flowis
Flowis integrated Yanfeng's Purchase to Pay (PTP) cycle
Flowis can help you optimize business processes, improve effectiveness, workflow communication, data processing, document OCR and finance forecasts. Read about successful Flowis projects and implementations made by Flowis from all over the world.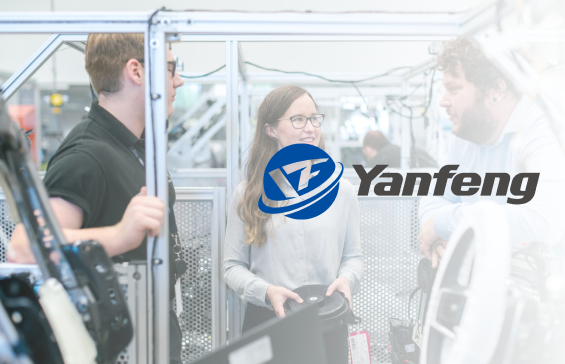 Security, Compliance, and Customer Support
We maintain SOC Type II compliance, adhere to GDPR regulations, employ TLS 1.2 encryption, and rely on Azure Storage to protect your valuable information.
Customer Support You Can Count On
Access FAQs, contact us directly, or explore our knowledge base for guidance. We're committed to ensuring a smooth experience for our valued customers.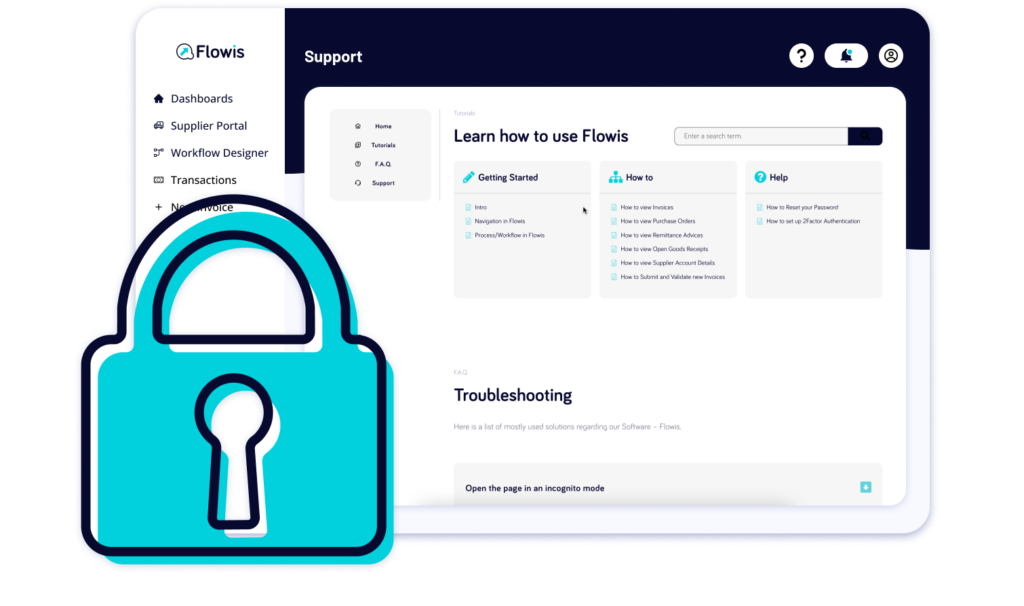 Want To See Flowis In Action?​