Manage Intercompany
Cross Charges with Flowis
Discover how Flowis can streamline and standardize the management of intercompany cross charges. 
Why Flowis for Intercompany Cross Charges?
Flowis offers customized, standardized templates for intercompany cross charges, simplifying the process. They are configured during implementation, ensuring that your accounting teams no longer need to memorize complex account details, cost centers, or project codes.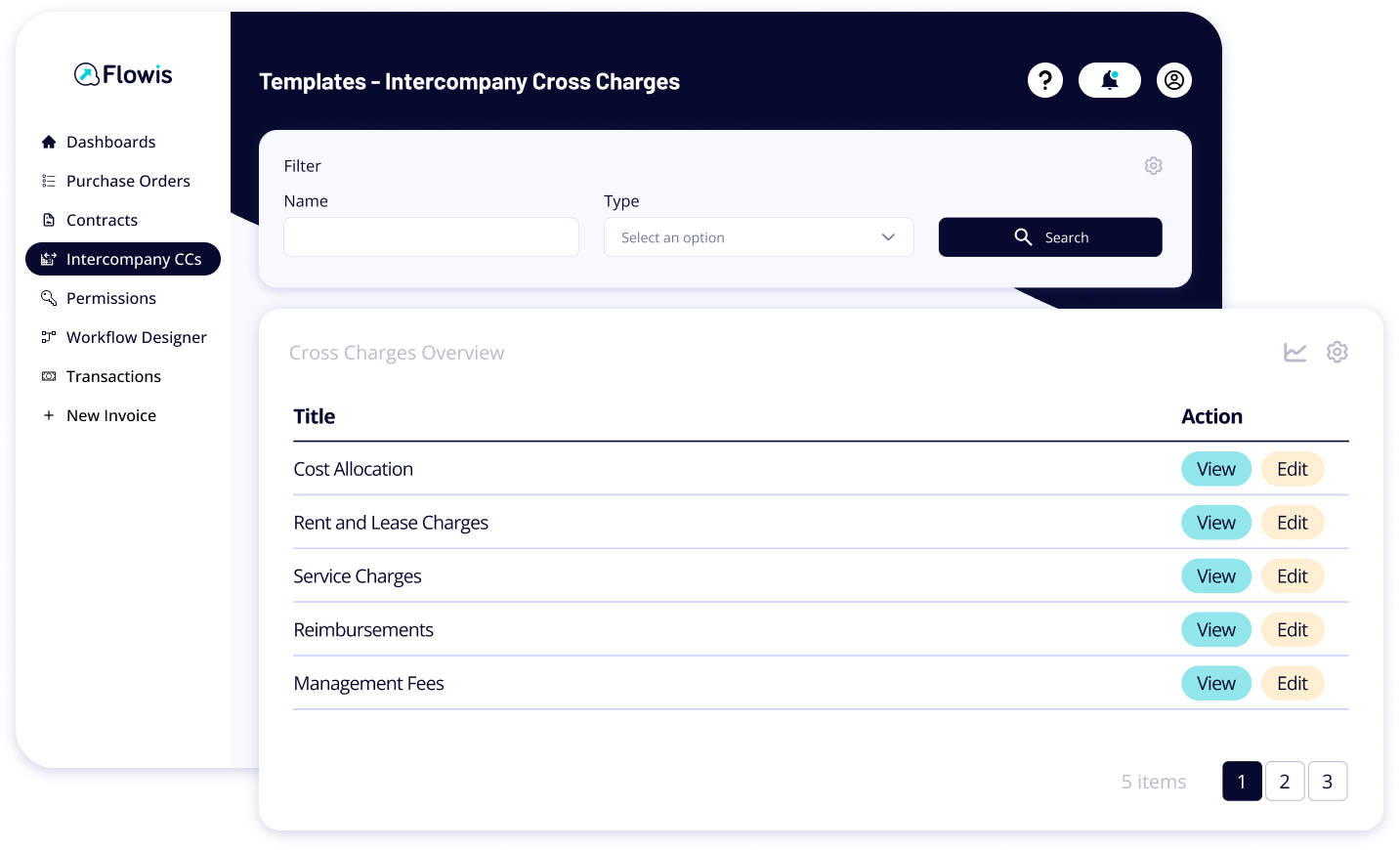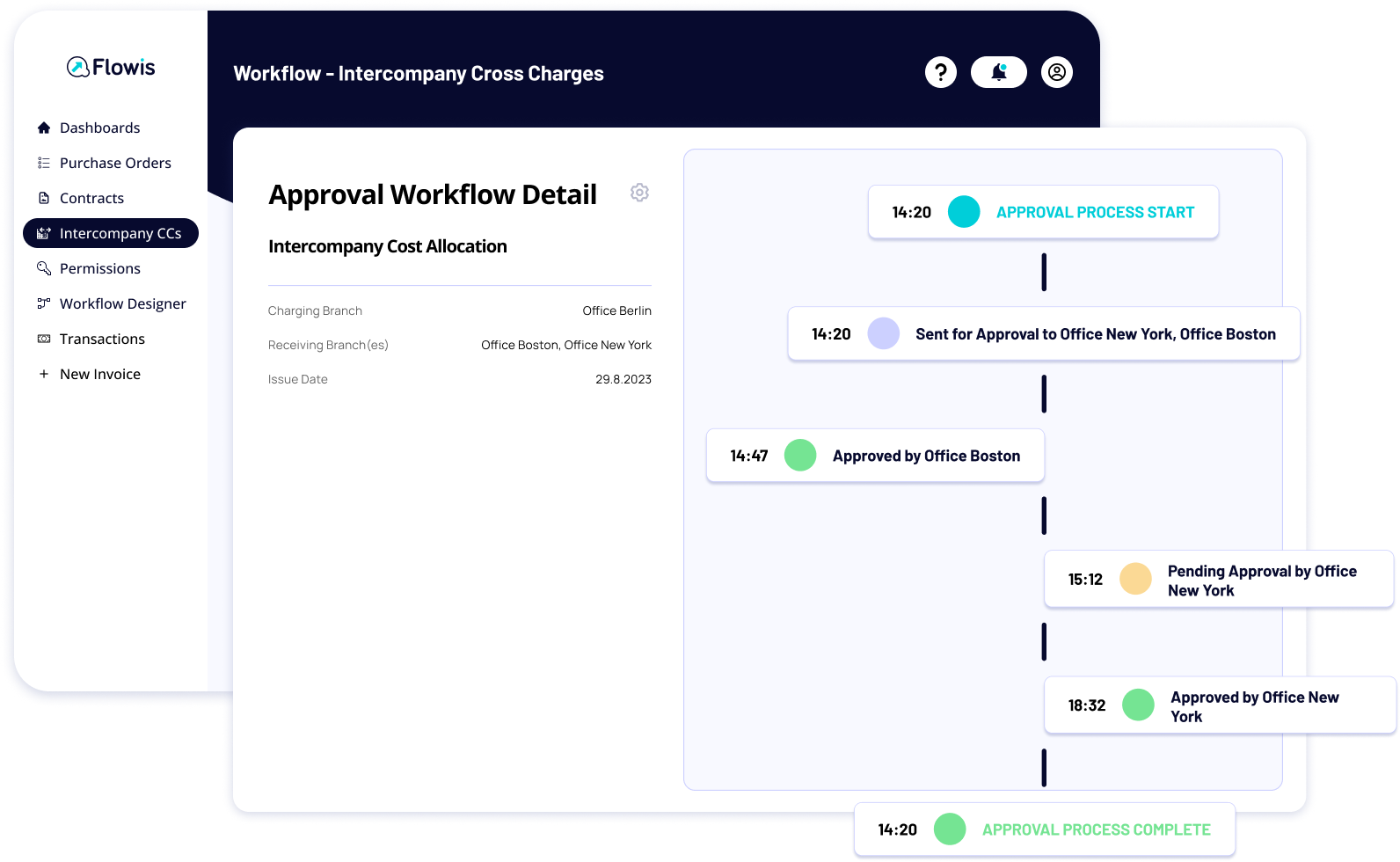 Dual-Side Approval Workflow
Charges are posted to both sides of the transaction only after thorough approval, reducing discrepancies, and ensuring that errors are resolved before they impact your financial reporting. This proactive approach safeguards against "double counting" and other accounting errors.
Reduced Intercompany Out of Balances
Minimize the chances of intercompany out-of-balances. Flowis provides a systematic solution to handle cross charges efficiently. Automated reconciliations and approval workflows help maintain balance, preventing costly imbalances that can disrupt your financial accounts.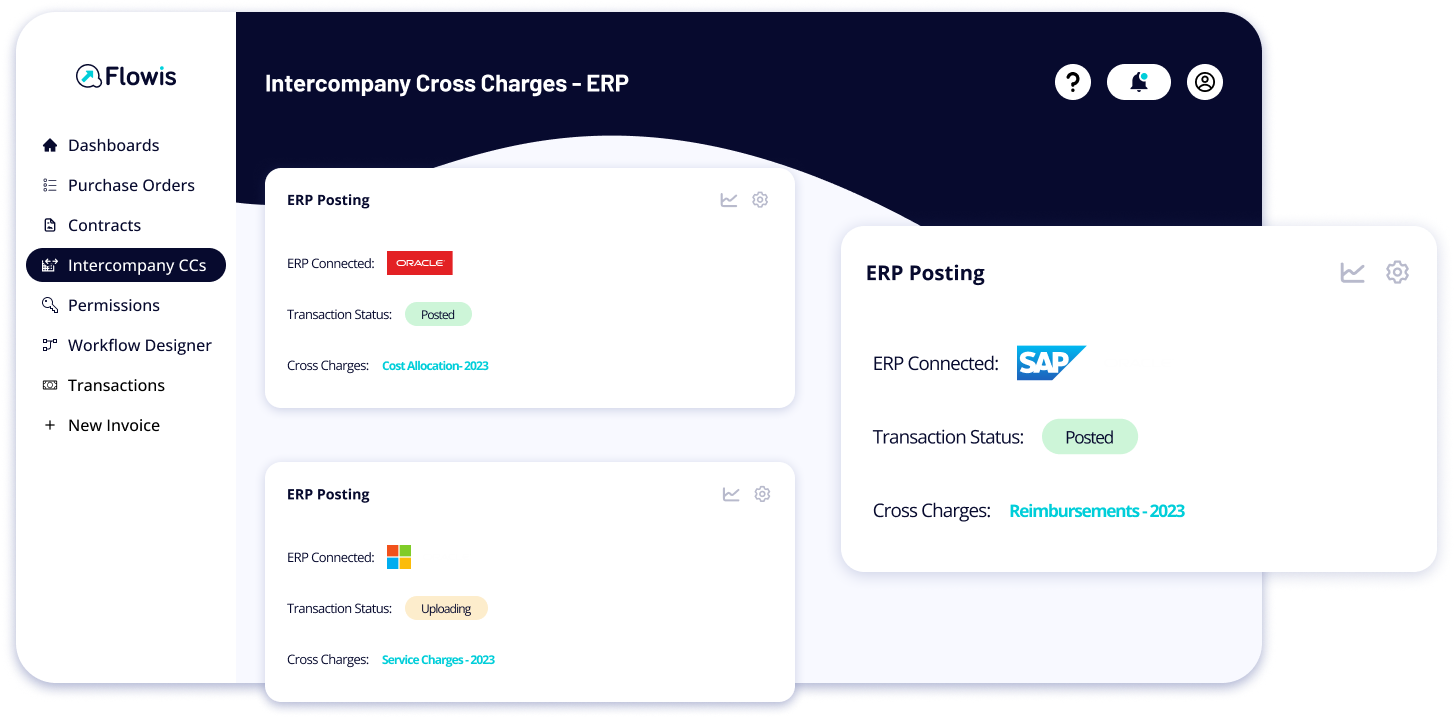 Automated Posting of Charges into Multiple ERPs
Flowis integrates with your existing ERP systems, streamlining the posting of approved cross charges. This automation not only saves time but also ensures that charges are consistently and accurately recorded across all your financial systems.
Tailor-Made Workflows
and Comprehensive Audit Trails
Create customized, adaptable workflows to suit your organization's unique needs. Configure rules based on thresholds, account types, or cost centers to fine-tune the cross charge process.
Comprehensive Audit Trails
Keep track of every cross charge action for accountability and compliance. Flowis maintains a comprehensive audit history, allowing you to review past transactions, approvals, and changes.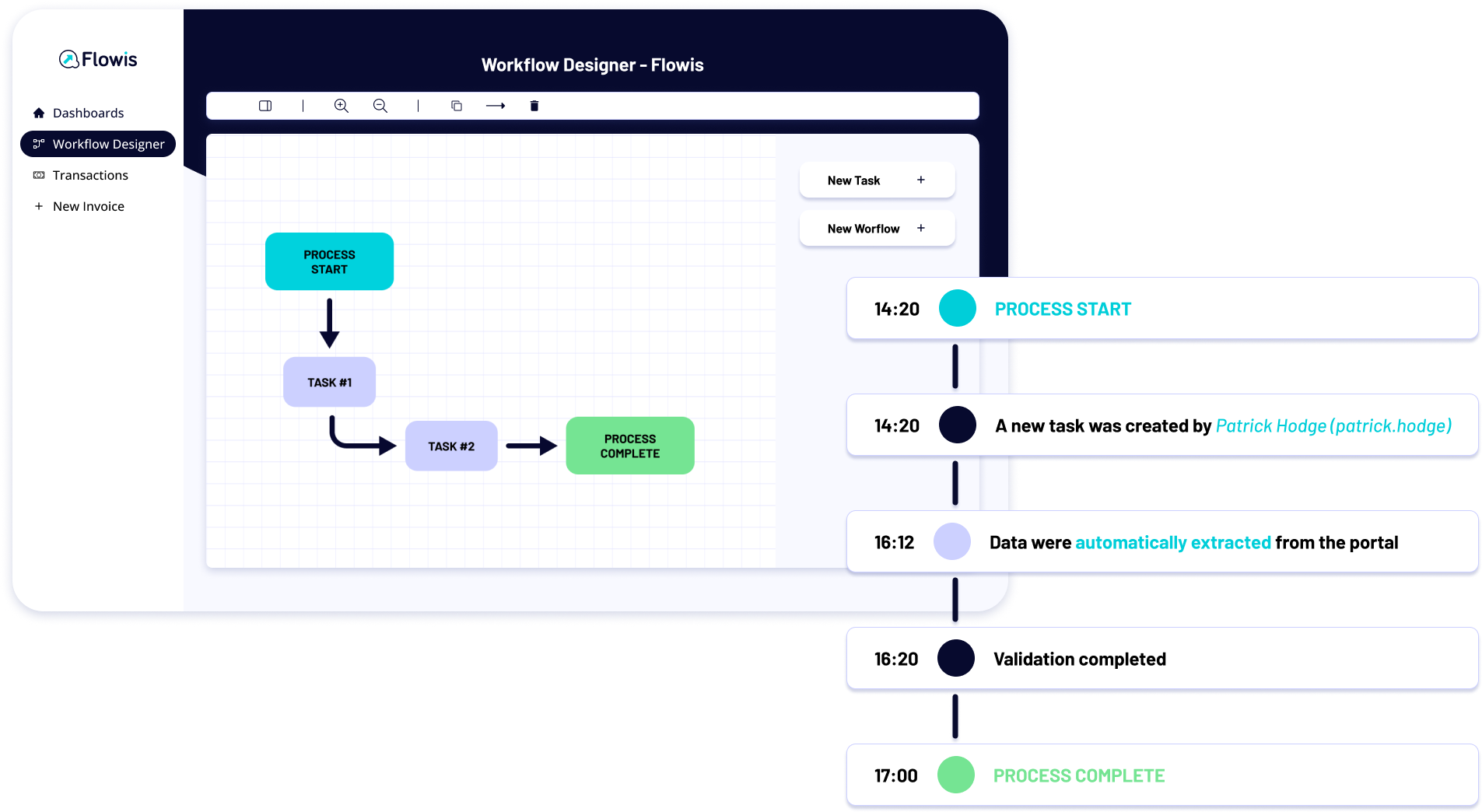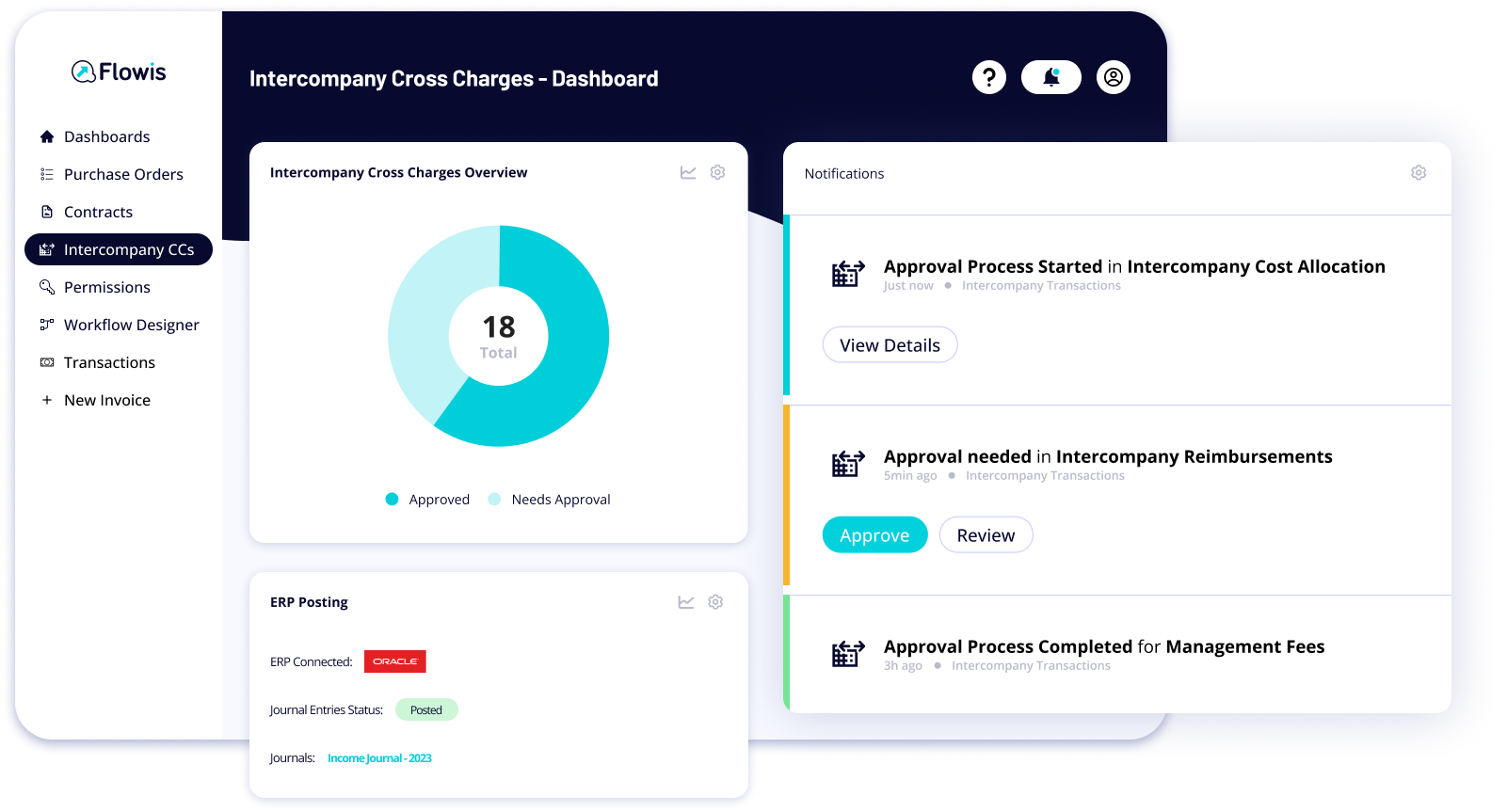 Notifications, Reminders, and Powerful Reporting
Gain access to a range of detailed reports and analytics enables informed decision-making and helps your organization gain a clear overview of its financial position.
Keep your cross charge workflows on track by automatically sending notifications and reminders.
Cross Charges Processed Monthly
Manage Your Intercompany Transactions

Efficiently

Using Flowis

Set up standardized templates with links to your accounting software.
Raise cross charge requests manually or automate them from various data sources.
Accept or reject cross charges and adapt accounting details.
Central teams process approved charges, ensuring accurate posting.
Identify charges pending for posting or negotiation with clear reports.
See how we've Implemented Flowis
Flowis integrated Yanfeng's Purchase to Pay (PTP) cycle
Flowis can help you optimize business processes, improve effectiveness, workflow communication, data processing, document OCR and finance forecasts. Read about successful Flowis projects and implementations made by Flowis from all over the world.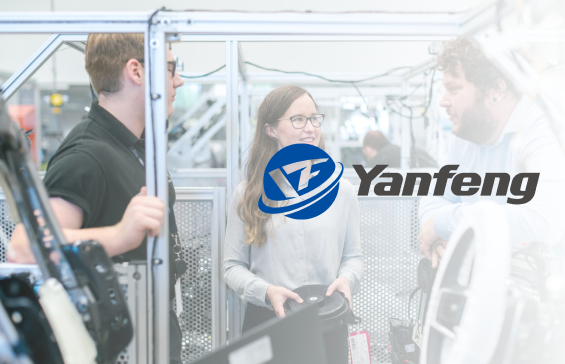 Security, Compliance, and Customer Support
We maintain SOC Type II compliance, adhere to GDPR regulations, employ TLS 1.2 encryption, and rely on Azure Storage to protect your valuable information.
Customer Support You Can Count On
Access FAQs, contact us directly, or explore our knowledge base for guidance. We're committed to ensuring a smooth experience for our valued customers.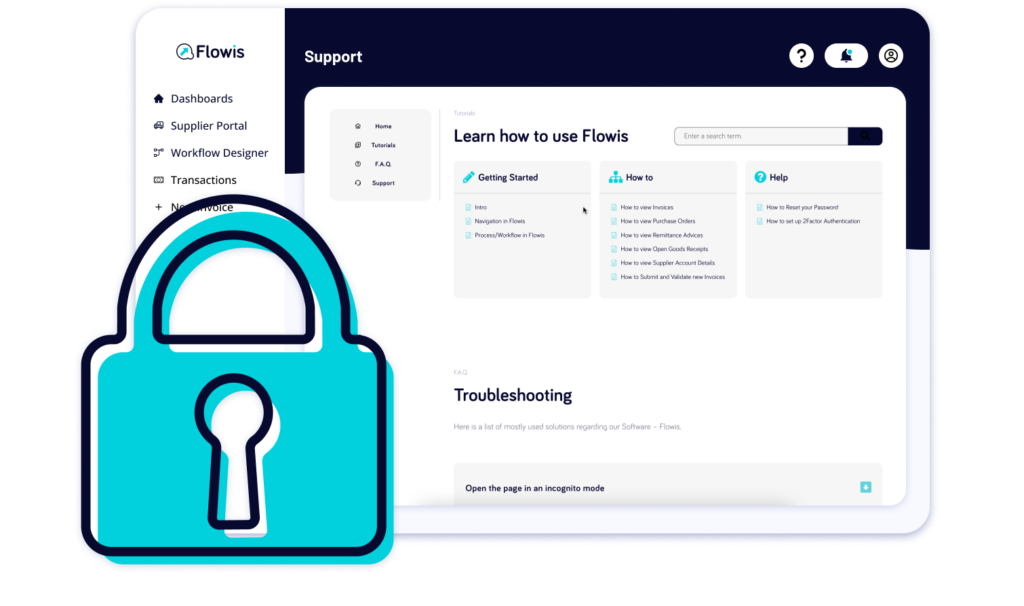 Want to see flowis for yourself?