Journal Entry

Management
Made

Easy

with Flowis
Discover how Flowis simplifies and standardizes journal entry processes, making them efficient and error-free. Say goodbye to manual data entry and welcome automation.
The Smart Choice for Simplified Journal Entry Automation
Customized Manual Journal Templates
Create tailored journal templates to fit your unique accounting needs. With Flowis, you have the freedom to design templates that match your business's specific financial requirements.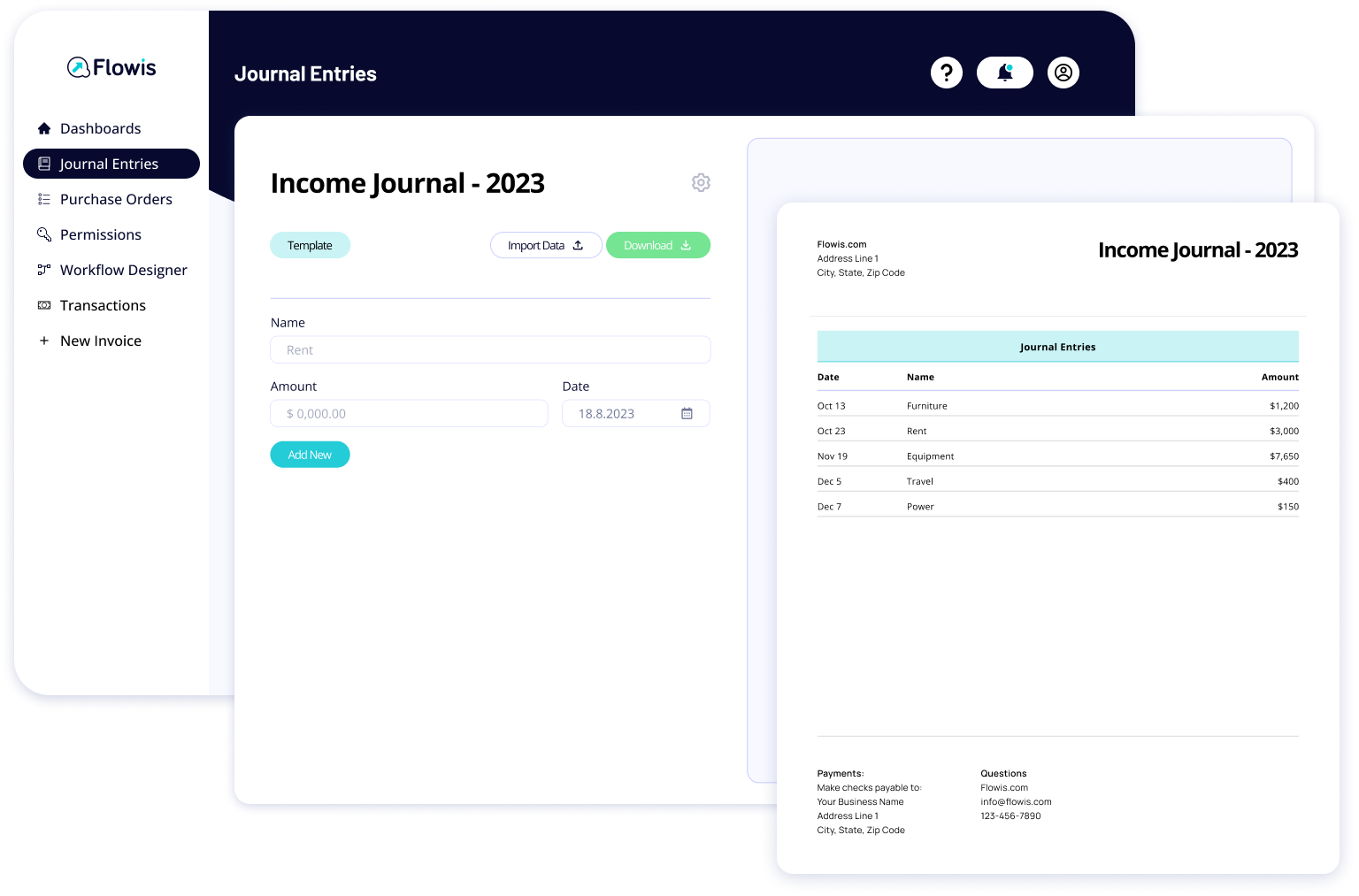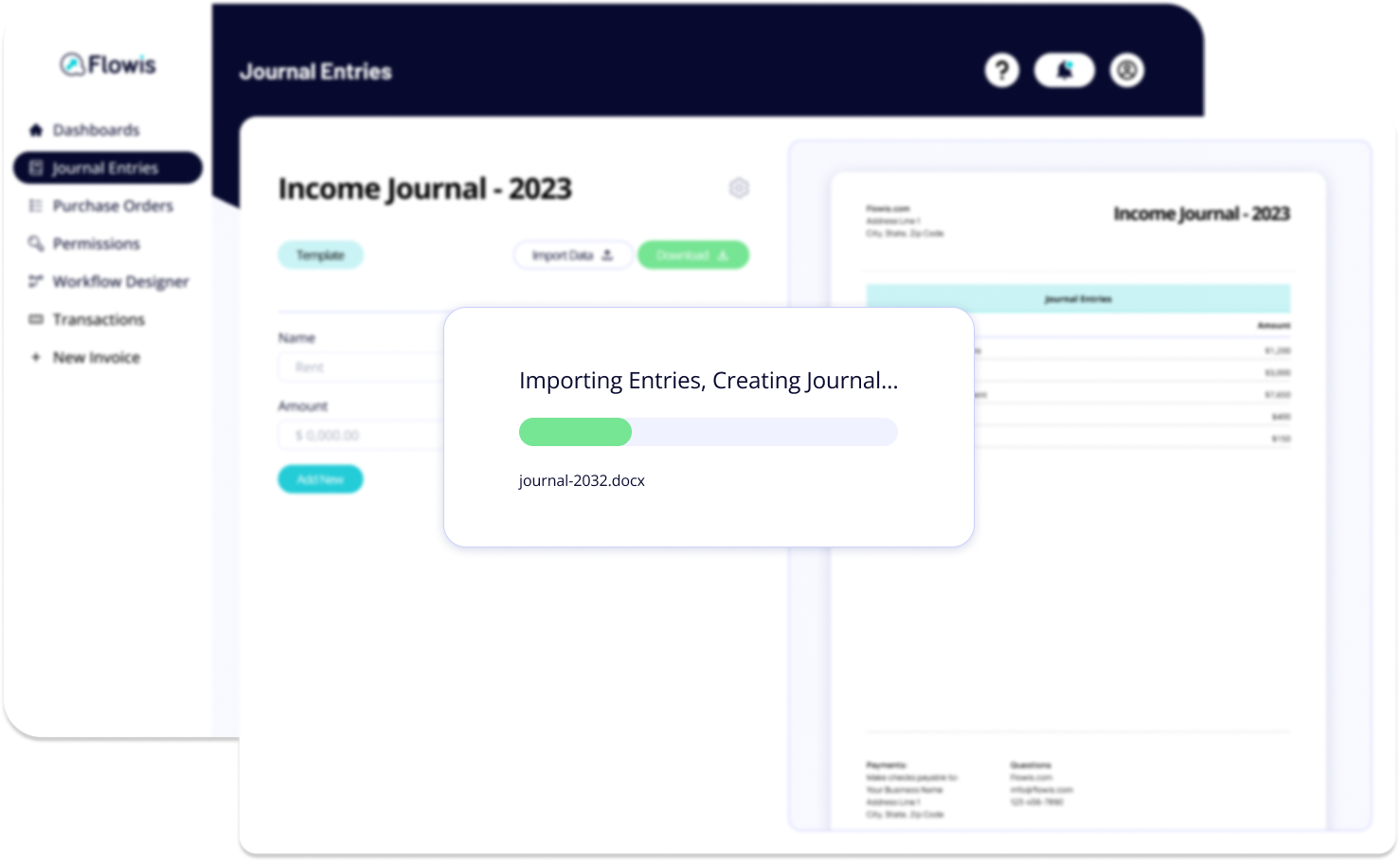 Automated Journal Creation
Flowis automates the creation of journal entries, saving you time and reducing the risk of errors, giving you peace of mind that your financial records are accurate and up-to-date. Say goodbye to the stress and frustration that comes with manual data entry.
Recurring Journal Entries
Set up recurring journal entries with ease. Flowis allows you to schedule repetitive entries, such as monthly expenses or regular income, ensuring consistency and eliminating repetitive data input.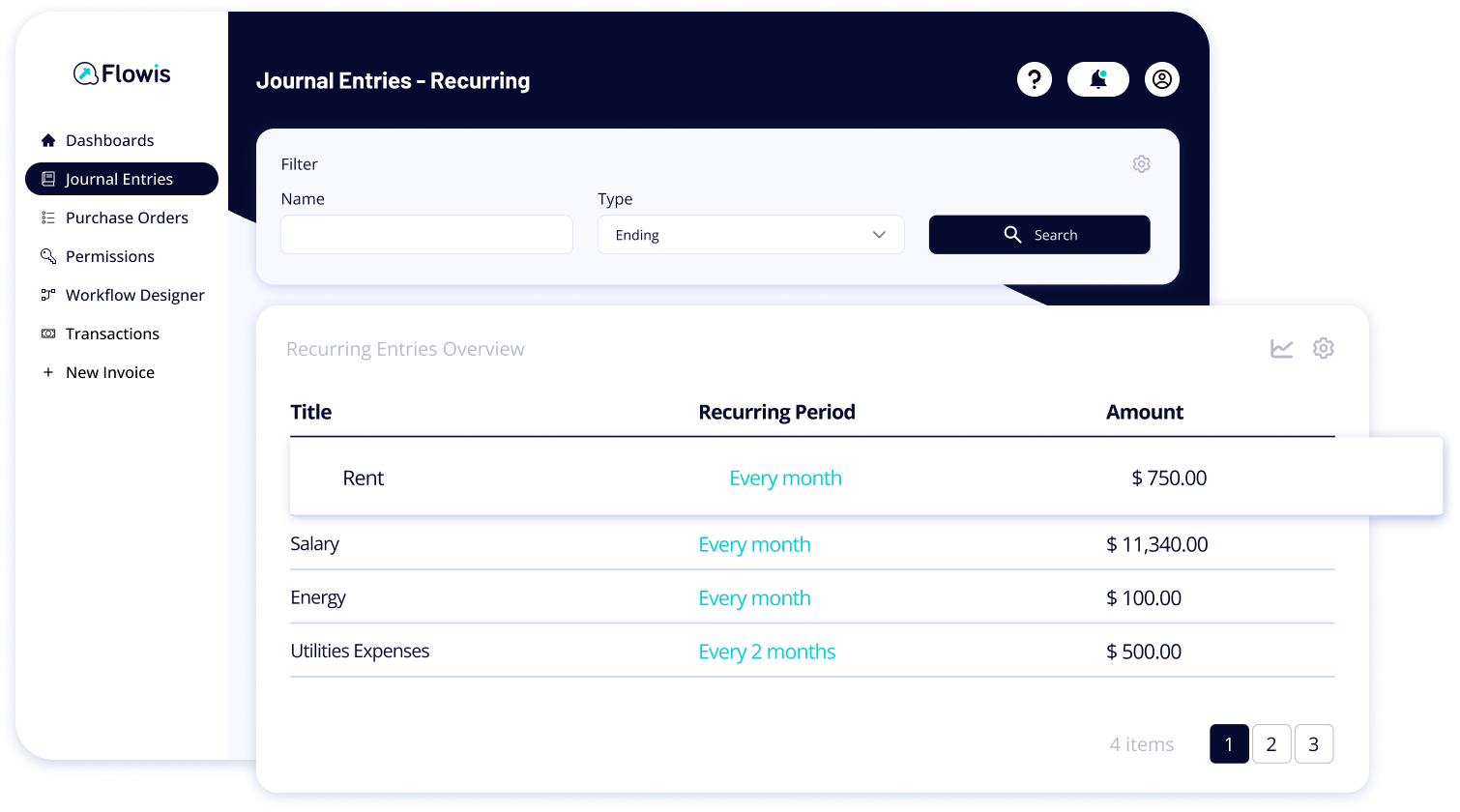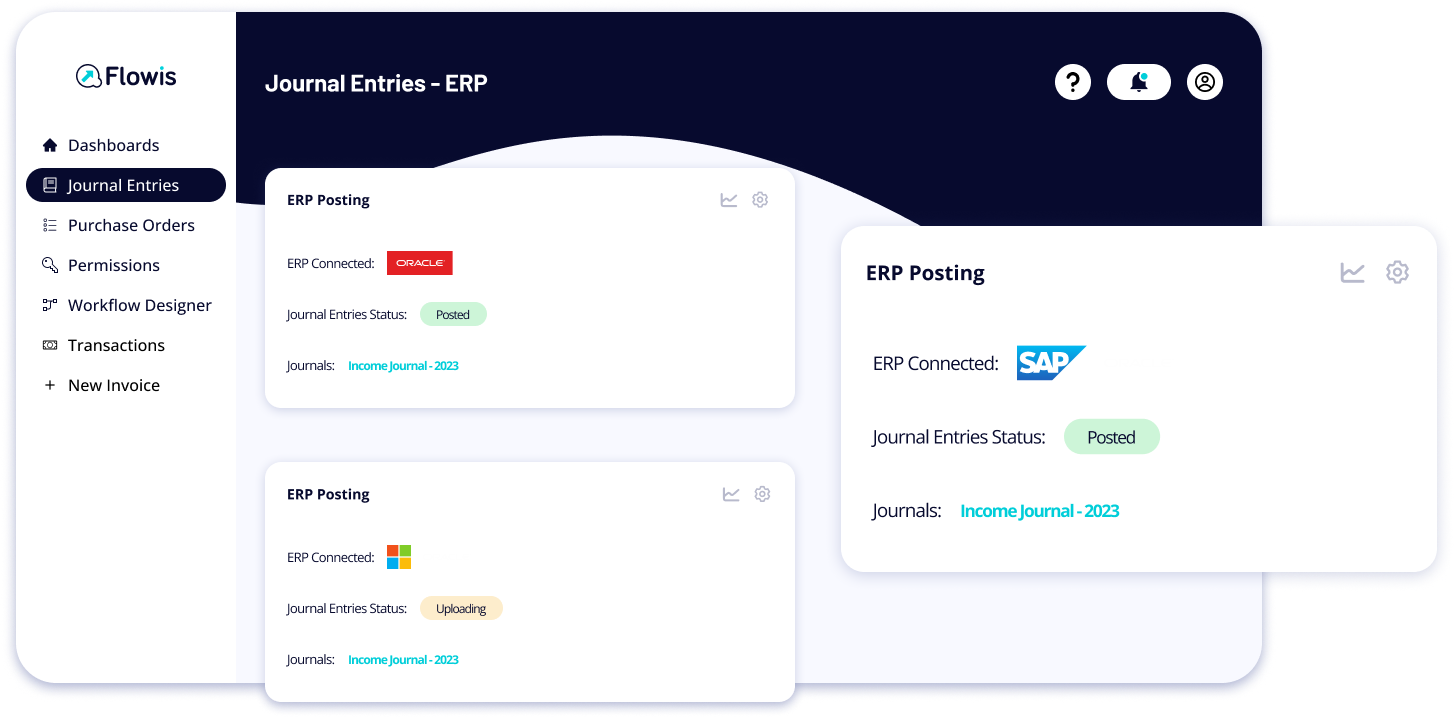 Automated Posting Across Multiple ERPs
Integrate Flowis with all your ERPs and automate the posting of journal entries across multiple systems, enhancing efficiency, and minimizing reconciliation differences.
Number of companies trust Flowis for Journal Entries ever get lost in your journal entries?
With flowis you won't
Stay On Top Of Tasks With Notifications and Reminders
Stay on top of your journal entries with real-time notifications and reminders. Flowis ensures you're informed when critical actions need your attention, reducing delays and missed deadlines.
Tailor-Made Workflows
and Comprehensive Audit Trails
Customize your journal entry workflows to match your company's unique approval processes in setting rules, thresholds, and sensitivity for various aspects of journal approvals.
Comprehensive Audit Trails
Keep a complete audit history of all your journal entries. Flowis provides a detailed trail of actions taken, offering transparency and accountability within your financial processes.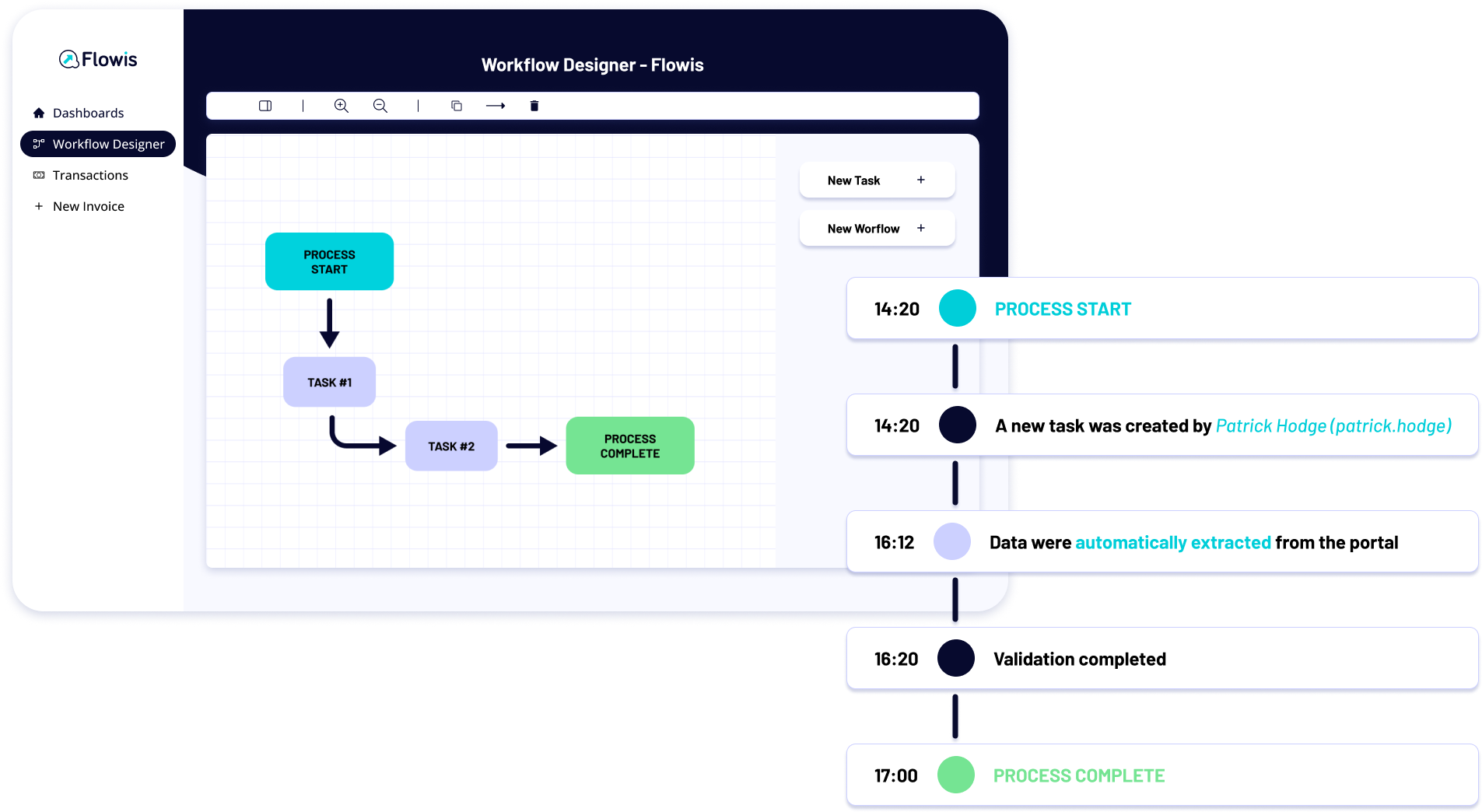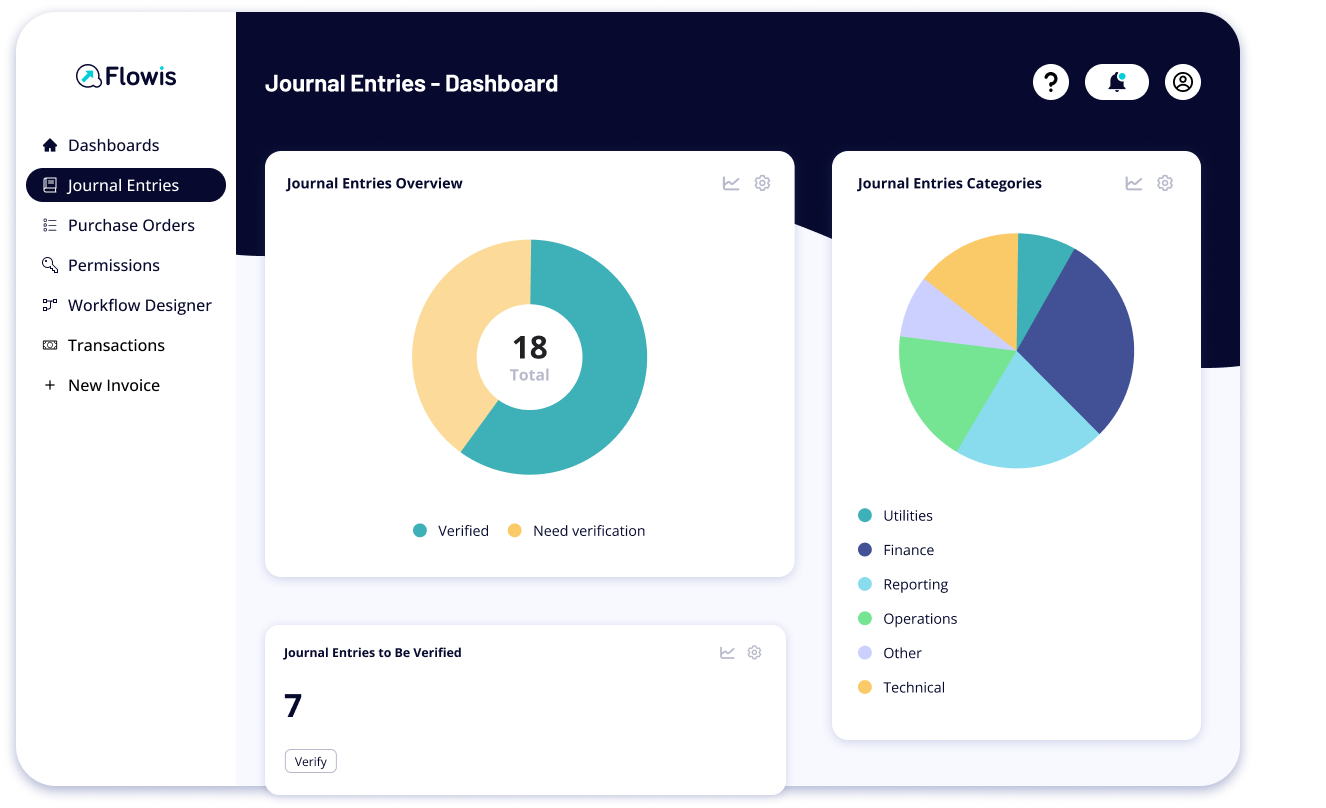 Gain valuable insights into your financial data with Flowis's powerful reporting tools. Visualize your financial performance through charts and graphs, helping you make informed decisions for your business.
Simplify Your Journal Entries
with
Ease

Using Flowis

During implementation, we configure manual journal entry templates with automated links to your accounting software. Master data synchronization ensures pre-validated entries.
Create general or sub-ledger manual journals, or let Flowis generate entries from various data sources. Set up recurring entries as needed.
Journals follow your company's approval matrix with flexible rules for thresholds, account types, and cost sensitivity.
Flowis seamlessly integrates with your ERPs, posting approved journals in real-time, reducing delays and discrepancies.
Central Finance Oversight
Gain visibility over all journals and introduce special rules for month-end close.
Accessible by audit teams, Flowis eliminates the need for manual journal print-outs, speeding up the review process.
All journal entries are securely archived, even as entities change or staff transitions occur.
See how we've Implemented Flowis
Flowis integrated Yanfeng's Purchase to Pay (PTP) cycle
Flowis can help you optimize business processes, improve effectiveness, workflow communication, data processing, document OCR and finance forecasts. Read about successful Flowis projects and implementations made by Flowis from all over the world.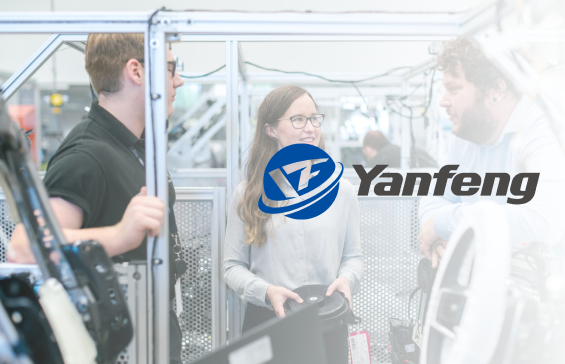 Security, Compliance, and Customer Support
We maintain SOC Type II compliance, adhere to GDPR regulations, employ TLS 1.2 encryption, and rely on Azure Storage to protect your valuable information.
Customer Support You Can Count On
Access FAQs, contact us directly, or explore our knowledge base for guidance. We're committed to ensuring a smooth experience for our valued customers.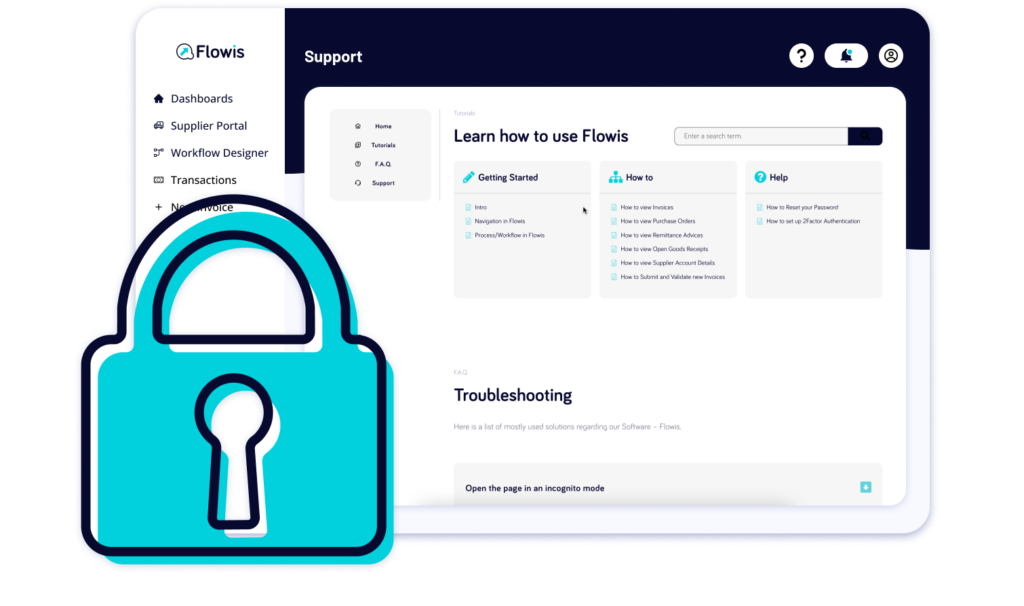 Give us 15 minutes and decide after that